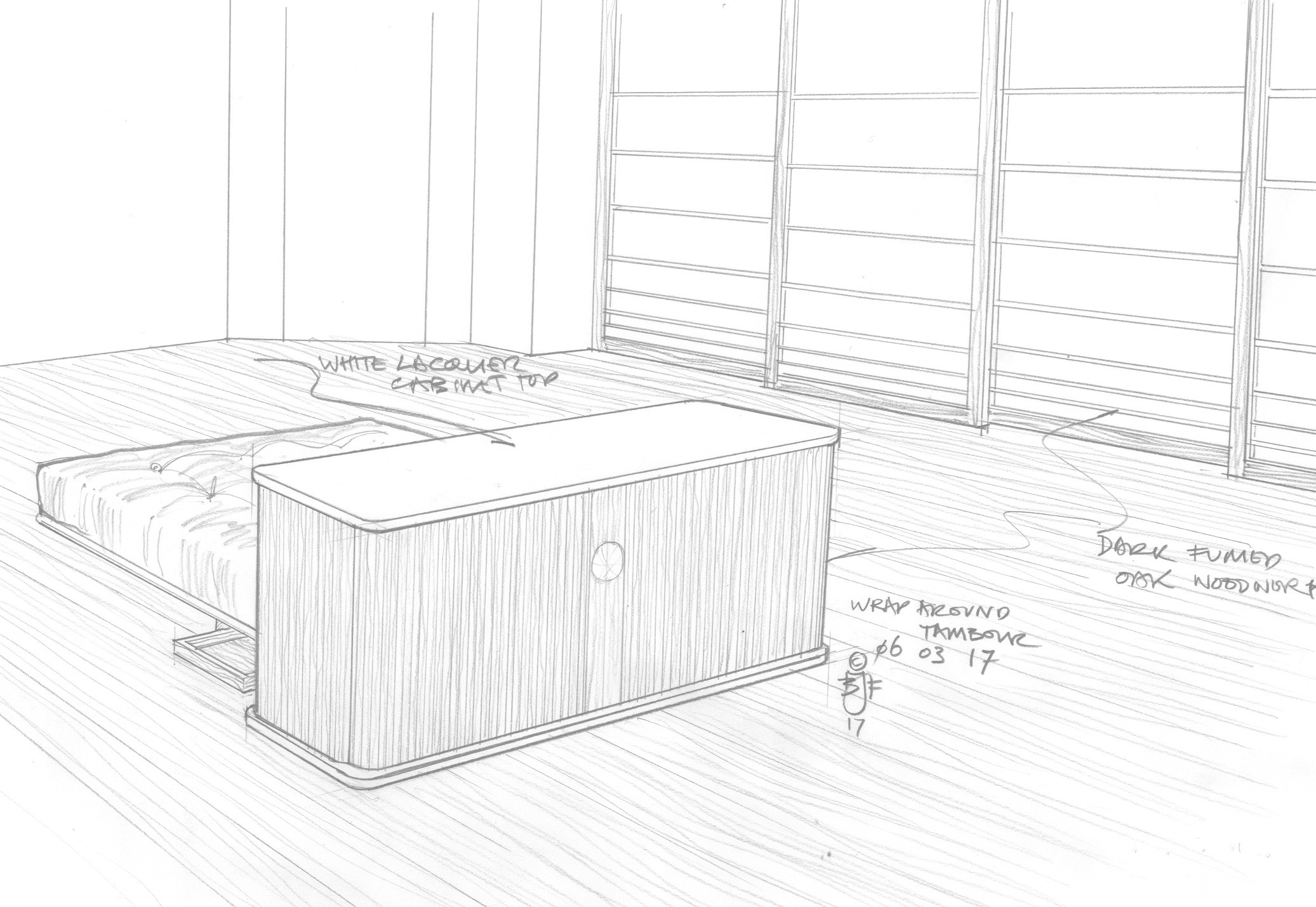 An expansive green kirkstone slate workbench anchors the design of this Knightsbridge kitchen. To bring this luxurious interior together, materials such as ash and brushed stainless steel are taken through into the living area, for which we made a bespoke banqueting table, snooker table and storage units.
This huge banqueting table appears to float atop a toughened glass pedestal base. Referencing materials used elsewhere in the interior, the table incorporates an integrated steel trivet and Ben's invisible extending table mechanism.
This loft apartment is regularly used as a photoshoot location. For it, we made this clean, modern, white laminate panelled wall that doubles as concealed storage.
We can create or commission custom design for every small detail.
The pretty rattan dowells on these wardrobe doors give a subtle nod to traditional Chinese interior design.
The pearlescent birdseye maple veneer used on this tabletop contrasts the solid sweet chestnut comb-jointed legs.
Close-fitting headerless doors show off the beautifully bold linear grain of poplar, or tulip wood, veneer.
This veneered bathroom conceal shows wood panelling working beautifully in a modern interior.
This bright and functional home office features a custom-made desk and cabinetry topped with durable blue linoleum.
Leather drawer tabs set off this bespoke solid walnut bedside cabinet.
This solid ash four-poster bed and matching cabinet combine sleek modern lines with traditional style.
The design for this sideboard is inspired by the sand dunes on a beach near to the client's home in Devon. The tactile frontage exploits the subtle colour differences between olive ash and wild ash, and has inspired a number of further 'wavy' commissions.
 
The unusual joinery in this bespoke vanity unit plays tricks on the eye.
This solid oak display cabinet with underlit glass shelving and lockable doors is designed for a unique private collection of Roman artifacts.
This glass-topped cherrywood bedside cabinet exploits the decorative qualities of geometric joinery.
We nicknamed the bentwood handles on this cherrywood chest of drawers 'flippet'.
An integrated brushed copper trivet offers a warm looking, heat-proof surface on this solid walnut dining table.
This handsome snooker table made from fumed oak makes a striking visual feature of the ball rails. 'Fuming' is an intriguing process in which natural woods are darkened by being placed in a confined space with a saucer of ammonia. Over time, the ammonia reacts with the tannic acid native in certain timbers to turn their colour chocolatey brown.
Another bespoke snooker table, this time in solid ash covered with striking black felt.
A calm elegant and peaceful bed sitting room with fumed Oak Shoji Screens enclosing the wardrobes with a tambour door cabinet containing a record player and TV also serves as a bed head.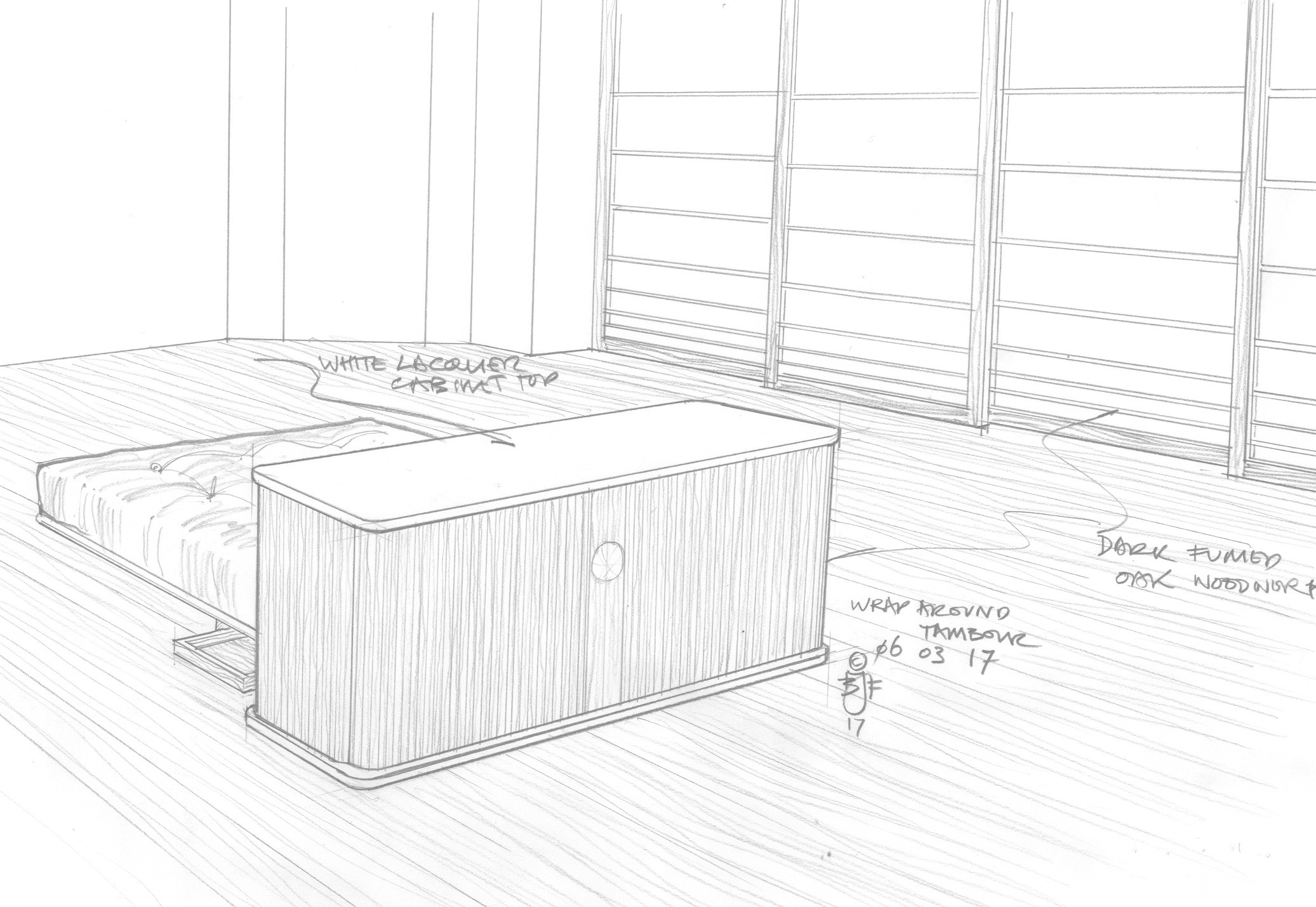 A pencil concept sketch showing the tambour wrapped cabinet and bed arrangement